Because of Your Support, Others Will Eat Today.
Your gift of money, food or time can give hope and make a difference in the lives of hungry and struggling families.
Your financial donation is the most powerful way to help those in need in our community. Through our partnerships with grocery stores and other food providers, we can turn every $10 cash donation into 30 nutritious and satisfying meals, including meat, dairy products and fresh produce.
Community Table is a 501(c)3 nonprofit organization. Donations are tax-deductible as allowed by law. Our EIN is 74-2250374. Donor Privacy Policy.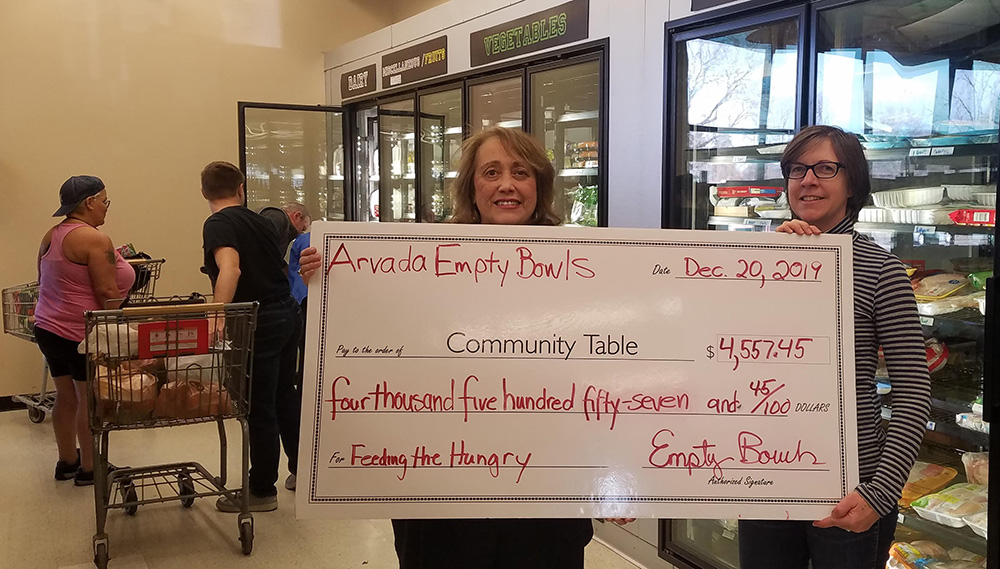 Your gift to Community Table is in good hands and comes with a wholesome return!
Community Table has a 'Platinum Seal of Transparency' on Candid, a '4-Star' rating on Charity Navigator and we are a Better Business Bureau Accredited Charity,' which means you can trust your donation will be used to help those in need in your community.
Community Table is a 501(c)3 nonprofit organization. Donations are tax-deductible as allowed by law. Our EIN is 74-2250374.
Monetary donations are the most effective and efficient way to help alleviate hunger in our community, giving us flexibility and buying power.
Here are a few easy ways to donate today and give the gift of a warm meal to your struggling neighbors.
Your one-time donation provides three nutritious meals for every dollar you give. So no matter how much you can afford, every dollar makes a difference in the lives of families struggling to put food on the table.
Please help us fight hunger all year long by making a monthly gift. For as little as $10 a month, you can provide weekend food for one child all school year! To make an ongoing gift, please visit our Colorado Gives page. You can change or cancel your gift at any time.
Gifts in Honor or Memory of a Loved One
Recognize someone special or honor the memory of someone you love by helping people experiencing hunger. Every $10 you give helps provide food for 30 meals.
To make a memorial or honorary gift, visit our donation page, click the "Add a dedication to your donation" button and enter the requested information.
Business and Organization Partnerships
We are proud to partner with businesses and organizations that share our commitment to helping people in need. And we're happy to promote businesses and organizations doing "good" in our monthly e-newsletters, website and social media channels.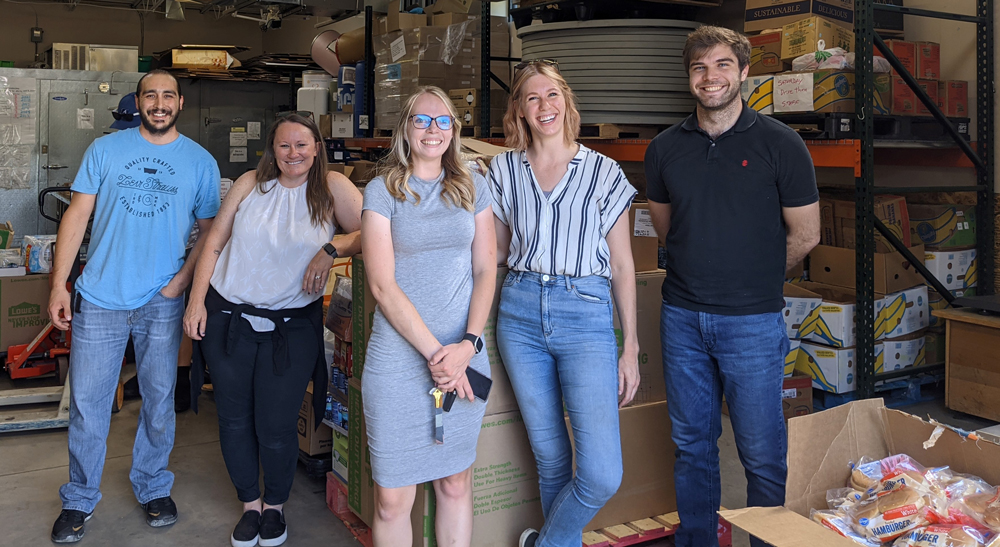 In addition, to always-needed monetary contributions, there are many other ways your business and organization can help:
Please let us know how your business or organization wants to help end hunger in our community by emailing us at info@cotable.org or calling 720-437-6394. Please contact us well in advance of your event to give us time to review it and provide support and assistance if applicable and available.
Become A Community Partner
Note
*Please note that all fundraising activities that involve the use of our name or logo must be reviewed and approved by Community Table. Promotion on our website and social media channels and staff or volunteer presence at events is not guaranteed and is determined case-by-case. Community Table does not share or sell its internal list of donors or supporters.
You can help stock our pantry and warehouse with nutritious and satisfying food that will give hope and make a difference in the lives of struggling families.
We gratefully accept donations of fresh and shelf-stable food and personal care items Tuesday to Friday from 9:00 am to 4:00 pm. Our donation door is located on the east side of our facility.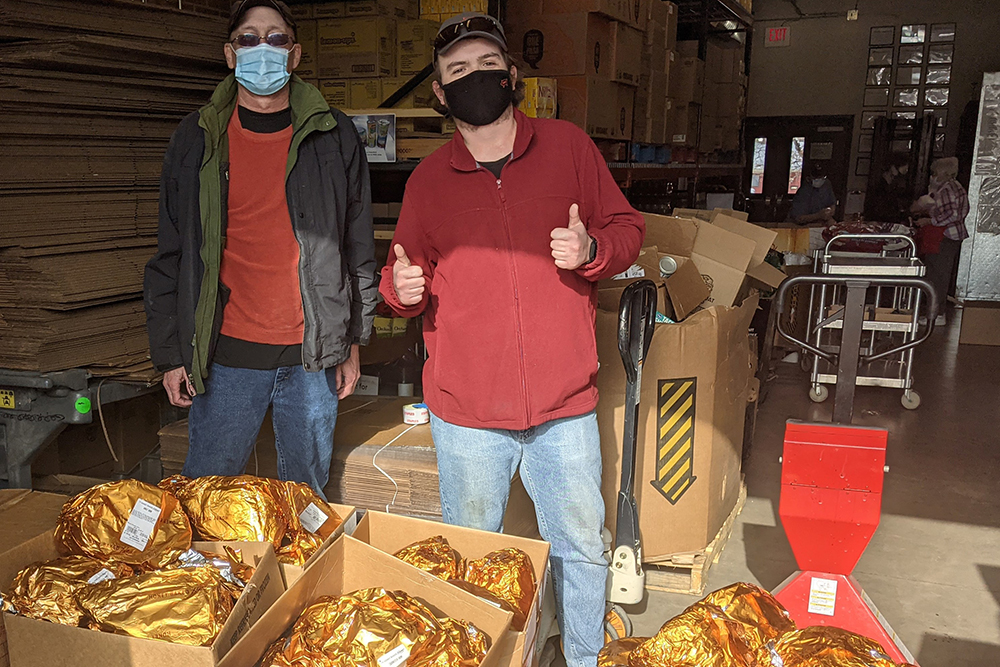 Just like you, the families we help want food they need and like. Please donate what your family likes and would want if you needed food.
Items we always need:
Canned meat and fish
Pasta (dry)
Spaghetti sauce
Hearty soups, stews and chilis
Boxed dry meals and sides
Canned beans
Ensure (or similar adult drinks)
Dry cereal (boxes or bags)
Instant oatmeal
Canned fruit
Rice (1 – 2 pound bags)
Refried beans
Peanut butter
Snack bars
Canned vegetables
Baking supplies (flour, sugar, etc.)
Common spices (salt, pepper, garlic powder, etc.)
Cooking oil 
Jams, jelly and honey
Condiments (ketchup, mustard, salsa, etc.)
Fresh Produce
Apples
Oranges
Bananas
Bell peppers
Onions
Tomatoes
Potatoes
Squash
Toothpaste
Toothbrushes
Feminine products (pads, tampons)
Body lotion
Shampoo
Conditioner
Bar soap
Body wash
Deodorant
Infant and adult diapers
Grocery bags (plastic or reusable)
Here are some other ways to support Community Table's mission.
Thank you for going the extra step to host a food drive. We rely on support from people like you to help keep our warehouse and pantry shelves stocked. Food drives also help raise awareness about hunger in our community and encourage others to help. Here's how to get started:
To host a food drive at your church, business, organization, neighborhood or school, call 720-573-6300 or email jnormandin@cotable.org.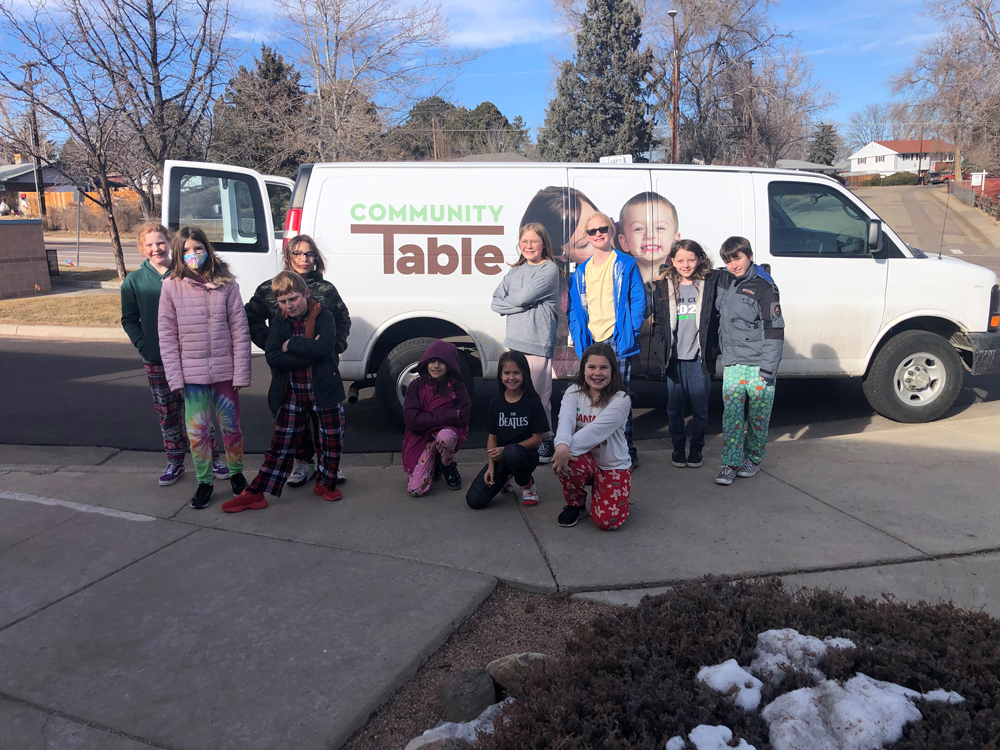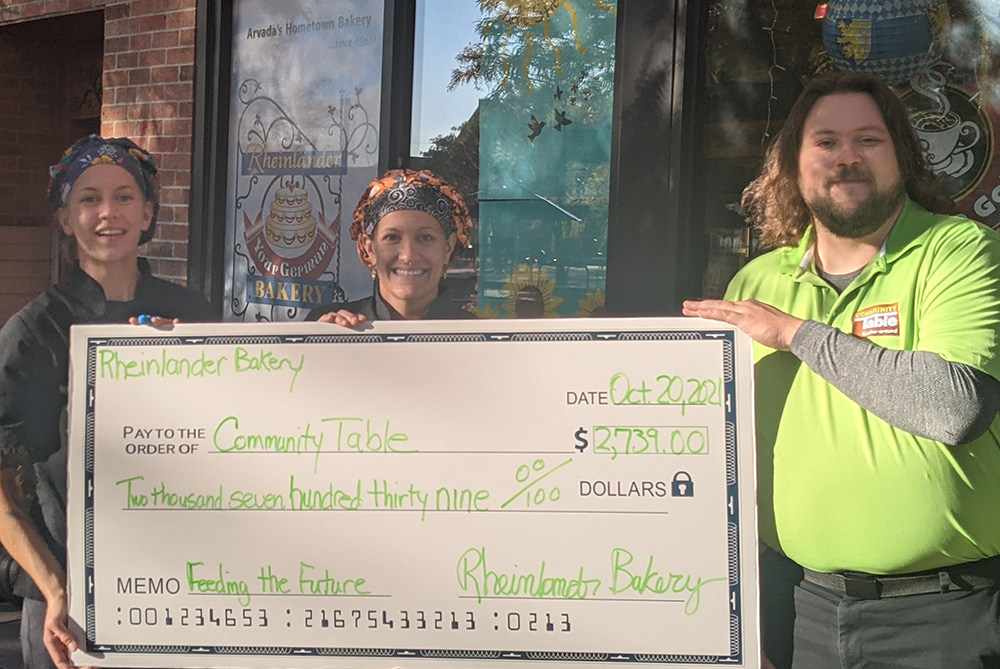 Matching Gifts - Make an Impact!
Your gift to Community Table can help feed a family. Your company's matching gift can help feed another.
If you've recently made a donation to Community Table, please check with your employer to see if they match charitable contributions. The process may be as simple as completing a form on a website. We're happy to help. Please contact our resource development team if you need assistance or have questions. lcadman@cotable.org
Host a Facebook Fundraiser
Raise money to feed our hungry neighbors through the power of social media by making a Facebook Fundraiser! Dedicate your birthday, anniversary or another special event to Community Table, or make one just because!
Every $1 donated to Community Table, we can provide THREE nutritious and satisfying meals to a hungry child, senior or family in our community. Last year alone, Facebook Fundraisers helped us raise enough money to provide more than 7,500 meals for our hungry neighbors! You can help make an impact by hosting your Facebook Fundraiser today.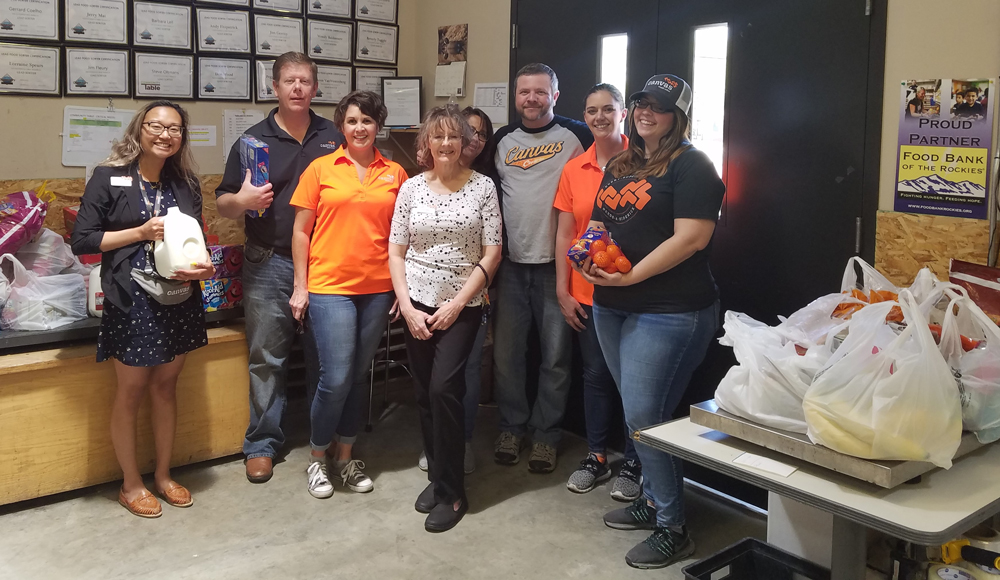 Tips to Make your Facebook Fundraiser a Success
ReFund Colorado - Turn your tax refund into food!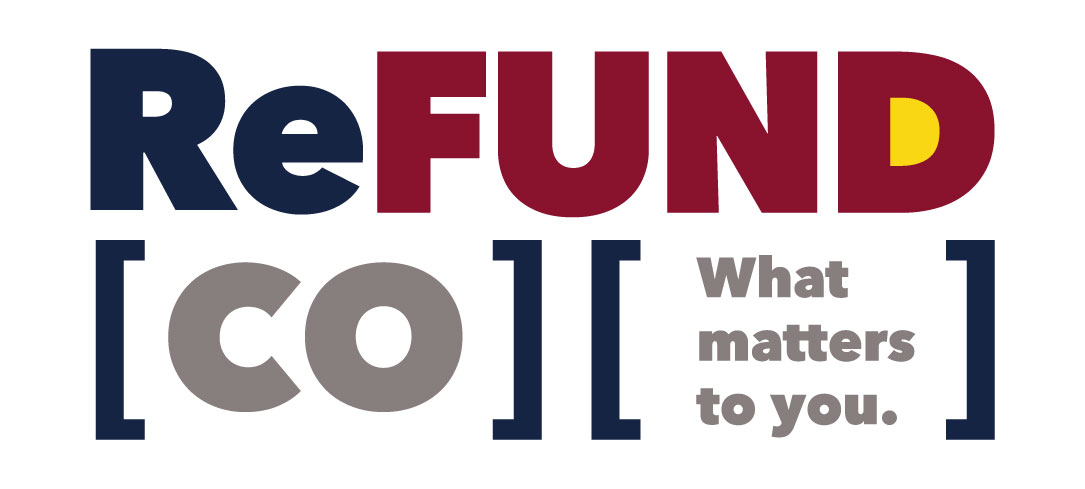 Through ReFund Colorado, you can now donate some or all of your state income tax refund to help feed hungry families in our community.
ReFUND CO lets you decide if you want to donate some or all of your tax refund to a Colorado nonprofit. It's as simple as 1, 2, 3:
Decide how much of your refund to donate.
Enter Community Table and our registration number 20033002744 in the Donate to a Colorado Nonprofit Fund line on your state income tax return or tax software—or give this info to your tax preparer when you share your tax documents.
Smile knowing you've helped feed a hungry family!
You can learn more at RefundWhatMatters.org.
King Soopers Community Rewards - You shop. They eat.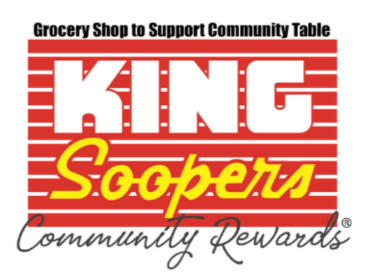 When you link your King Soopers shopper's card to Community Table, we'll receive a donation every time you shop for groceries at no cost to you!
Last year alone, King Soopers Community Rewards helped provide more than 29,000 meals for our hungry neighbors! Our community needs us now more than ever – you can help make an impact today by linking your shopper's card today.
Please CLICK HERE to link your shopper's card to Community Table.