Community Table provides hunger relief services to qualifying individuals and families through a variety of programs:
Client Choice Food Pantry
Feeding the Future Feeding the Future Program
Mobile Food Pantry
The Emergency Food Assistance Program (TEFAP)
Commodities for Seniors
"I am very grateful that Community Table was there to help me when I needed the help!"
"Community Table was a good experience. It was clean and orderly and the people were very kind and helpful. The food was good and not spoiled. I was able to use it all."
"Thanks for being there when we need help. Great, friendly, helpful, non-judgemental people."
Client Choice Food Pantry
Through the Client Choice Food Program, qualifying individuals and families select a supply of food based on their household size. Families and individuals may use this program 12 times a year based on the the anniversary date of their first visit. Therefore, we encourage clients to spread their visits out appropriately so that they can receive supplemental food, as needed through the year.
Feeding the Future Feeding the Future Program
The Feeding the Future Feeding the Future Program provides food to children more than 1,700 children at 15 area elementary schools and two Head Start programs each weekend during the school year. The 15 elementary schools are Title 1 schools that have a high percentage of children on the Free and Reduced Lunch program. Each Friday, each eligible child takes home a sack filled with:
breakfast items
lunch items
snacks
fresh or canned fruit
canned vegetable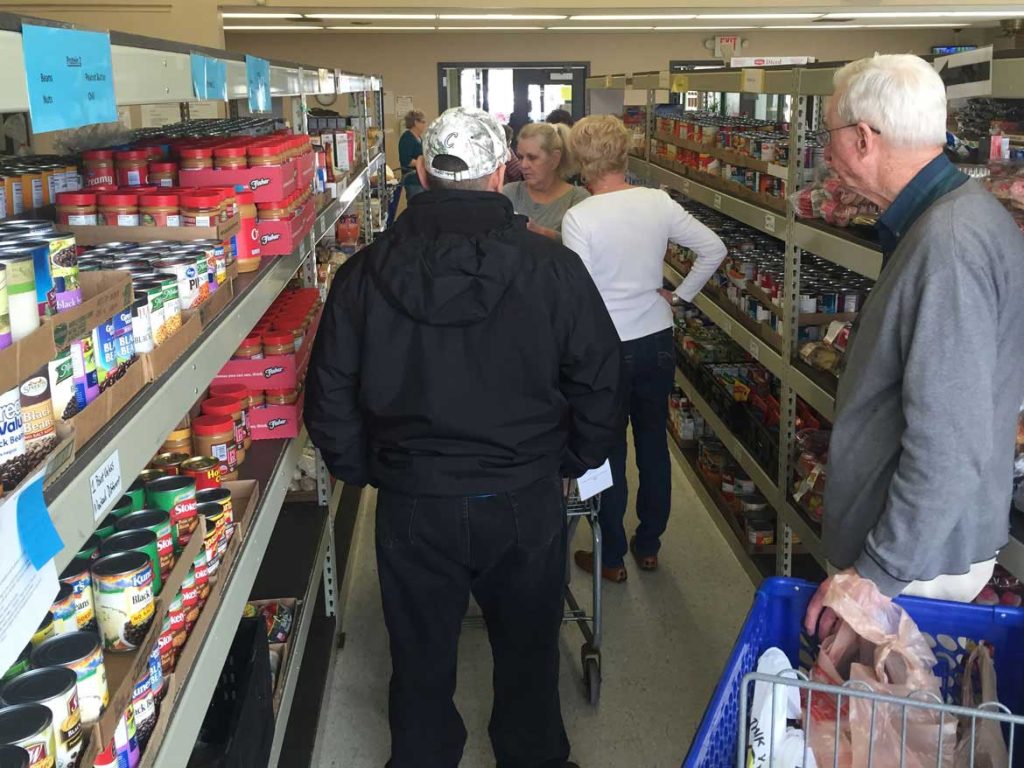 Mobile Food Pantry
Our Mobile Food Pantry delivers a "Client Choice" shopping experience to low income populations in specific communities that have difficulty accessing our services at our primary facility and less access to fresh produce.
The Emergency Food Assistance Program (TEFAP)
The Emergency Food Assistance Food Program provides food assistance to qualifying individuals through the distribution of United States Department of Agriculture (USDA) commodities.
Clients are eligible to receive food from TEFAP if they participate in any of the following programs:
SNAP (formerly Food Stamps)
Low-Income Energy Assistance Program (LEAP)
Old Age Pension (OAP)
Aid to the Needy Disabled (AND)
Aid to the Blind (AB)
Supplemental Security Income (SSI)
Temporary Assistance to Needy Families (TANF)
Medical Eligible Foster Children
Commodity Supplemental Food Program
If you are NOT participating in any of the above programs, your household income must meet federal income guidelines.
Commodities for Seniors
Community Table partners with the USDA Commodity Supplemental Food Program and the Food Bank of the Rockies to provide once a month food assistance to low income seniors.
To receive food through this program a client must live within the service area. Bring a picture ID, a piece of mail dated within the last 30 days and proof of income (one of the following: SSI award letter, bank statement, OAP/VA pension statement, W-2, recent pay stub, employer statement, subsidized housing verification, or food stamp award letter).
Food boxes are distributed the 3rd Wednesday of each month (only) from 9:00 AM to 10:30 AM.