Sandy was appointed the President and Chief Executive Officer of Community Table in June 2013. She has over 30 years of experience in nonprofit and governmental human services management.
Sandy holds a Bachelor of Science in Human Services from Metropolitan State College of Denver and a master's degree in public administration from the University of Colorado, Denver. Most recently, she was the Chief Development Officer for Warren Village. She served nine years as the Head Start Director for Jefferson, Clear Creek, Gilpin and Park counties. Before Head Start, she worked for the Fitzsimons Redevelopment Authority as their Community Outreach and Communications Manager. Sandy was the Human Services Director for the City of Arvada for 15 years. Her skills include management, supervision, fund and program development, budgeting and financial management, strategic planning, goals setting, public relations and marketing. She was on the original planning committee, which established Community Table in 1982.
Promoted to Director of Food Programs in 2020, Rocky graduated from Colorado School of Mines in May of 2014 with a degree in Chemical and Biochemical Engineering.
Rocky briefly worked for a fracking company in West Virginia until the company he worked for went under due to oil and gas prices. After returning home, he started volunteering at Community Table. After several months of stellar volunteer work, Rocky was offered the position of Pantry Supervisor. He enjoys the unique challenges of his job, working with hundreds of volunteers and helping others. His skills in process engineering have helped the Food Bank greatly.
After more than 18 years with the Arvada Center for the Arts and Humanities, Leanne joined Community Table in July 2018 as Director of Communication and Resource Development.
As Associate Director of Philanthropy at the Arvada Center, Leanne assisted with the management and performance of fundraising efforts, with an emphasis on corporate sponsorships, foundation grants, government relations and community partnerships. Leanne is a Regis University graduate with a bachelor of science 'magna cum laude' in business administration. She has also been recognized as a Certified Fund Raising Executive by CFRE International, which certifies experienced fundraising professionals for achieving the highest standards of ethics, competence and service to the philanthropic sector.
Kennedy first came to Community Table as an intern in 2022 while wrapping up her degree in Community Health from Montana State University. In December 2022, Kennedy joined our staff as Community Engagement Coordinator and Interim Volunteer Coordinator.
She will be working closely with food programs to expand mobile pantry operations and coordinate home deliveries to homebound families. Kennedy also helps support Community Table's many assistance programs. She enjoys wearing many hats, including unofficial staff morale chair, and looks forward to the growth of our organization.
Shannon began volunteering at Community Table in October 2019 after retiring from the insurance industry with 27 years of service. During her insurance career, she volunteered at many organizations. In the fall of 2021, Shannon put her years of volunteer experience to work when she transitioned to the position of Volunteer Coordinator.
James Normandin joined Community Table in the winter of 2019 as an independent contractor, and became a full time staff member in October 2020. He currently serves as Manager of Food and Safety, directly overseeing our Feeding the Future program and volunteer safety program.
In addition to his main responsibilities, James assists in managing all other food programs with an emphasis in food drives and mobile pantries. Whenever James isn't elbow deep in donated and purchased food, you can usually find him out playing electric bass with local reggae band Stylie, getting tattooed at Stay Local Tattoo and Piercing in Wheat Ridge, or at home hanging out with his family and playing videogames with his friends.
Kaylee Peterson
Child Waiting Attendant
Bobby joined Community Table in May of 2022 as a Communication and Resource Development Assistant. He has an extensive background in nonprofit and corporate financial services, as well as years of volunteer experience. Currently, he splits his time between communication, resource development and food programs. When he's not at work, Bobby is a freelance screenwriter with a comprehensive portfolio.
Kelly has been Community Table's Accountant since November 2022. She brings over 35 years of experience in multiple sectors, including engineering/transportation planning, public accounting, nonprofit organizations and real estate. Kelly has a BSBA in finance and accounting from the University of Denver (go Pioneers!). Previously, she was with Charlier Associates, a transportation planning company in Boulder, where she worked for 15 years.
When Kelly isn't on the clock at Community Table, she spends time with her four grandkids — running them to soccer practices, dance classes, shopping outings, preparing family meals and big get-togethers while enjoying time with them in the backyard.
Kelly has dedicated her entire career to ensuring the success of the companies, organizations and individuals she works with – and giving love and endless support to her family and friends. Working for Community Table means a lot to Kelly. Arvada and its community members have always held a special place in her heart and soul.
Bernadette has an Associate's degree in Legal Office Management, graduated with honors Summa Magna Cum Laude from Denver Business College, and also has a TESOL Certificate from the University of Colorado Denver.
Bernadette also earned a Certificate as an Accounting Technician from Accounting & Business School of the Rockies. Acquired over 15 years' experience working with Adams 12 Five Star Schools as an Administrative Assistant, Bernadette possesses the knowledge, support, and sensitivity of working with individuals and groups from diverse academic, socio-economic, and cultural backgrounds while establishing, maintaining, and fostering a positive working relationship.
While we have no regular staff openings at this time, we are always in need of volunteers.
Regular Food Bank Opportunities include:
Sorting daily donations of produce, bakery, dairy, canned goods or frozen items
Data entry/clerical support assist with data entry and administrative duties
Driving to pick up donations from grocery stores and food drives (a pickup truck and current insurance are required)
Customer service in the Client Choice area to welcome and help shoppers to find the food products they need
Assisting with special food drives like the National Association of Letter Carriers for the Food Bank, our Thanksgiving Distribution, our once-a-year inventory or other special one-time needs
Please note that not all position are open at all times. See position descriptions below for more details.
If you are interested in volunteering with us, you must apply by filling out a Volunteer Profile. You can download one via the link on the right.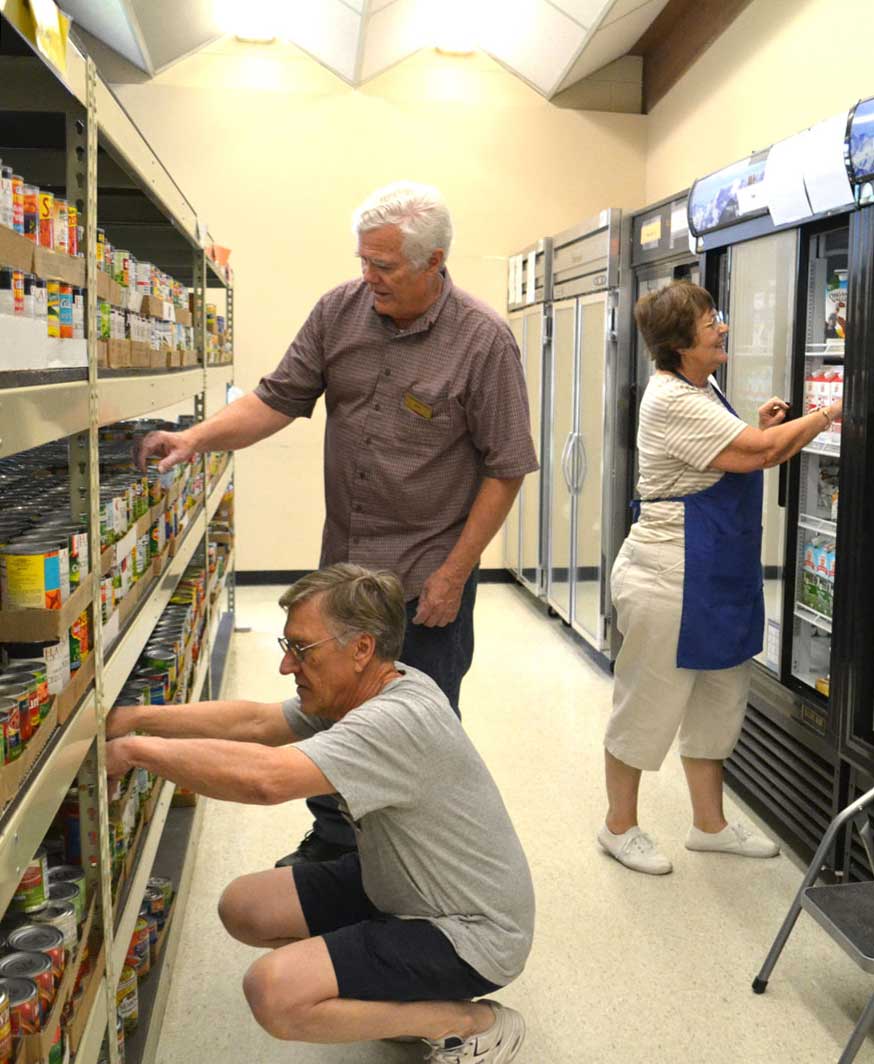 Contact us today to get involved
Sign up for email updates
You will receive a confirmation email soon after clicking the Subscribe button. Thank you for you interest in Community Table!
Quick Links to Get Involved