Feeding the Future Program
Since 2006, Community Table has provided hundreds of thousands of weekend meals for hungry school children. Hundreds of volunteers give their time each week to gather, pack and distribute weekend food sacks to to students and to stock emergency food pantries with enough food to support an entire family for few days at participating schools and Jefferson County's two Head Start programs. Feeding the Future also serves area high schools, providing food and toiletries for homeless teens. During the 2017-18 school year, Feeding the Future distributed more than 110,000 pounds of food and nearly 35,000 sacks of food.
Participating schools are Title 1 schools that have a high percentage of children on the Free and Reduced Lunch program.
Each Friday, each eligible child takes home a sack filled with nutritional kid-centric items that students – even those of kindergarten age –  can carry home and prepare themselves including:
Peanut Butter and Jelly Pouches
1% Shelf Stable Milk
Cereal Pouch
Bread
Snacks
Fruit Cup
Apples or Oranges
The program is available in eight Arvada and three Wheat Ridge elementary schools: Allendale, Arvada K-8, Fitzmorris, Foster, Kullerstand, Lawrence, Pennington, Secrest, Stevens, Swanson, and Thomson.
In addition, homeless children at Fremont, Parr, Peck, Vanderhoof, Campbell and Weber participate in the program.
Requirements
To receive the weekend food pack parents must register with their participating school.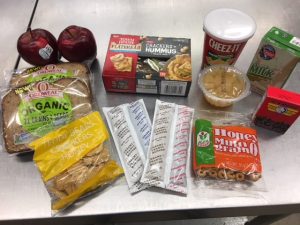 Your donation of $120 covers the cost of a child for the entire school year. Each $1.00 you donate provides us with $3.00 of purchasing power.
Please click the box below to to make a MONTHLY RECURRING $10 donation to the Feed the Future program If you would like to make a ONE TIME donation of $120 to support a child for the school year, use the button below.
When school is in session, the Feeding the Future Program is in full swing. However, with recent changes to the program to make weekend food more "kid-centric and easier to carry and Federal budget cuts and changes to the State commodity food distribution programs , Community Table costs to provide nutritional food to each child have increased significantly. While we use donated food whenever possible, to ensure that our students all receive comparable food items each week, we often must purchase specific items.