Feeding the Future Program
The Feeding the Future Program provides food to more than 1,700 children at 15 area elementary schools and 2 Head Start programs each weekend during the school year. The 15 elementary schools are Title 1 schools that have a high percentage of children on the Free and Reduced Lunch program.
Each Friday, each eligible child takes home a sack filled with:
Peanut Butter and Jelly Pouches
1% Shelf Stable Milk
Cereal Pouch
Bread
Snacks
Fruit Cup
Apples or Oranges
The program is available in eight Arvada and three Wheat Ridge elementary schools: Allendale, Arvada K-8, Fitzmorris, Foster, Kullerstand, Lawrence, Pennington, Secrest, Stevens, Swanson, and Thomson.
In addition, homeless children at Fremont, Parr, Peck, Vanderhoof, Campbell and Weber participate in the program.
Since January 2015, the Feeding the Future Program has been serving all the the Children enrolled in Jefferson County's Head Start locations.
Requirements
To receive the weekend food pack parents must register with their participating school.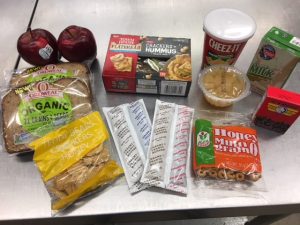 When school is in session, the Feeding the Future Program is in full swing. With Federal budget cuts and changes to the State commodity food distribution, Community Table must increase our food purchases by 30% to meet our children's program needs.
Please consider a cash gift to help our Feeding the Future Program stay strong. Your donation of $120 covers the cost of a child for the entire school year. Each $1.00 you donate provides us with $2.50 of purchasing power.