Support Community Table on Colorado Gives Day.
At Community Table, putting food on the table is only the beginning. For those that desire it, we can offer basic resources to
serve immediate needs as well as life-skill programs to strengthen families in.
Your contribution helps residents in 7 north Jeffco cities with:
Hunger relief
Job search & readiness
GED Tutoring Pre-GED Classes
Assistance with on-line application for public benefits
Case Management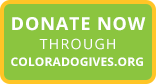 Share This Story, Choose Your Platform!